Leading the Way to a Safer Colorado
2021 Fall Conference

Registration for the 2021 Fall Conference is now open. Sheriffs and undersheriffs, click here to register for the conference.
2021 Spring Conference
Thank you to the Grand County Sheriff's Office for hosting our 2021 Spring Conference! We had a great week up in Granby. We delivered training sessions in partnership with POST, CBI, Grand County Sheriff's Office, and DFPC. Both sheriffs and undersheriffs enjoyed the opportunity to collaborate face-to-face for the first time since our 2020 Fall Conference. We are already looking forward to our next conference in August!
---
2021 Winter Conference 
We've wrapped up another successful Winter Conference and while it looked quite different from anything we've done before, we were able to deliver quality training to over 120 Sheriffs, Undersheriffs and Chiefs.   In addition to the training sessions we were able to hold a joint board meeting with the Colorado Association of Chiefs of Police (CACP), a round table discussion for sharing of ideas across agencies and we swore in the 2021 CSOC board members.
Virtual conferences are not ideal; however, the attendees, vendors and staff were able to make the best of the circumstances and benefited from the experience. We can not thank our vendors and sponsors enough for their continued support of the sheriffs.  Their loyalty and willingness to participate in this space was a bright spot during a difficult time for peace officers.  
We are most definitely looking forward to next year when we will be able to hold our Winter Conference in person at the Embassy Suites Hotel and Conference Center in Loveland. 
Training resources from the conference will be provided exclusively to Sheriffs and Undersheriffs soon.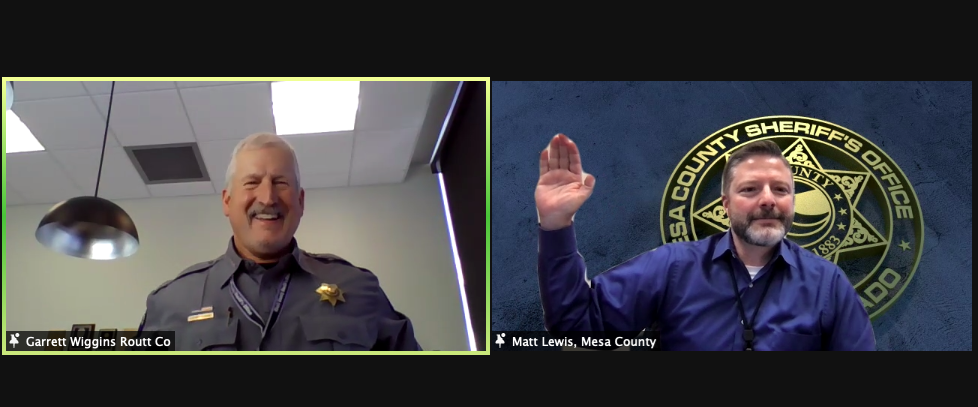 Swearing in the 2021 Board
Pictures tell the story best
                                

---
2020 Fall Conference
The 2020 Fall Conference came to a close and we are very pleased to announce that it was a successful conference for all. Despite Covid-19 restrictions, civil unrest, and fires in our state, the Sheriffs and Undersheriffs were able to come together and discuss many of the issue facing their communities today.  They received training and time to collaborate face to face.
There were several training topics presented at the conference.  Access to the training materials and resources can be found via the link below. 
These resources are available exclusively to Sheriffs and Undersheriffs.
Thank you to our sponsor:

---
2020 Winter Conference Recap
We showcased over 170 vendors who were able to display their products and services to sheriffs, police agencies and state patrol.  Over 200 attendees were given the opportunity to discuss their needs with a wide range of service providers.
In addition, the sheriffs and their staff attended critical professional and technical training courses with a wide range of topics and instructors.  And what make this years training unique; we were joined by the Colorado Chiefs of Police, combining the needs of both law enforcement groups in meeting their training needs and encouraging increased collaboration.  It worked so well that we cant wait to partner again in 2021!