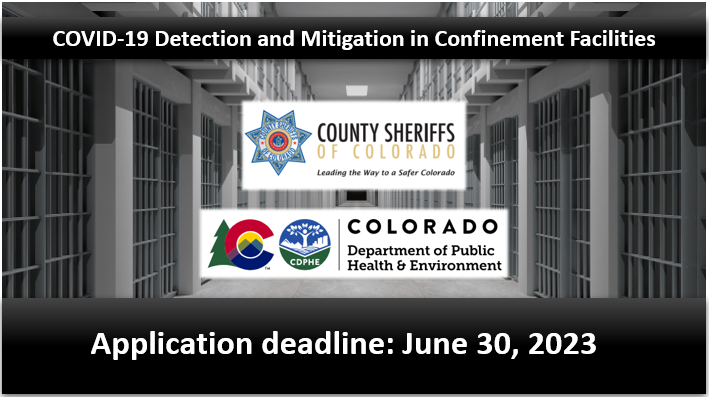 The County Sheriffs of Colorado has been diligently working with the Colorado Department of Public Health and Environment (CDPHE) in efforts to make confinement facilities in the state safer from COVID-19 and other infectious diseases. This RFA has a maximum award of $125,000.
Application deadline is Friday, June 30, 2023.
RFA and all associated information can be located here:https://cdphe.colorado.gov/confinement-rfa
CDPHE will host an informational webinar on Wednesday, May 24, 2023, from 10-11 am.
Registration is required. Those interested can click here to register.
Please submit questions regarding the RFA to the CDPHE Priority Populations Team at [email protected] 
---
The Office of Sheriff has a wide variety of responsibilities, most of which are required by state statutes.  These responsibilities range from traditional law enforcement roles, to fire and search/rescue operations, to carrying out court orders and providing court and physical security for public buildings.  Another major responsibility for most Colorado sheriffs is running a safe and secure jail
Your membership and donations go directly to support of the needs of sheriffs and their staff.  Explore our website for information on our Board of Directors and CSOC staff, conferences and training opportunities and more. 
And don't forget to visit our Vendor page!   Here you can find a listing of vendors who are trusted resources for sheriffs.
We are grateful for the support of our members and communities!
Respectfully, 
Amy J. Nichols, Executive Director